Member Login | Membership Sign Up

WITI's 15th Anniversary Membership Drive
Join or renew your WITI membership today to receive over $474 in savings. Plus FREE Membership in Two Partner Organizations! For more information, please visit our website.
Already an active WITI Member? Please visit the Member's Area for new free videos from our 2004 National Conference as well as acess to discounts and the Members Directory.
---
WITI South Florida Hope Fundraiser
Due to the recent onslaught of hurricanes, the WITI South Florida Hope Fundraiser has been postponed until October 26th. For more information...
---
Improving Your Odds
By Mellanie Hills
October is National Breast Cancer Awareness Month, so I'm focusing this issue on some of the things that we know about breast cancer.
Specific factors that can put you at risk for breast cancer include:
Having a close relative who has had breast cancer
Having your first child in your thirties, or later
Not having children
Early menstrual cycles (before age twelve)
Being African American
Diet, as discussed below
Antibiotic use - a new study found that antibiotic users had a 50% higher risk of breast cancer and the higher the use, the higher the risk. Researchers believe that the antibiotic use was due to chronic inflammation, which was linked to cancer and heart disease.
Continued....
---
WITI Talk TeleClasses: Transforming your Future!
2004 is coming to a close; do you need help figuring out "what next?" Do you want to explore what your life purpose is, so that you can create a "Mission Statement" for your life? Please join us for a WITITalk Teleclass. Participants in this teleclass have made major changes in their life, after just the first class!

WITI Members: Visit the Members' Area for promo codes to receive an additional $25 off this TeleClass! Register now!
---
Can They Stop Your Career?
By David Creelman
Consultant B.J. Gallagher has noticed something odd. People feel stymied in their careers and say the reason for it is that, "They won't let me." There are many variations on this phrase: colleagues warning, "They won't let you get away with it"; initiatives stopped because, "They won't do it"; and workers frustrated because "They won't change." This inspired B.J. to investigate these barriers to success and led her, along with Steve Ventura, to write Who Are "They" Anyway? (Dearborn, 2004).
In her book, B.J. argues that the complaints against "Them" express a belief among employees that they do not have power. This feeling of powerlessness is familiar to those in the lower ranks of a company. But, Gallagher points out, you hear exactly the same phrases at the VP level. When people at the top of the organization say, "They won't let me," one starts to wonder just who "they" really are. Continued ...
---
Next Week! Peggy Klaus at WITI Los Angeles: "Raising Your EPQ: Executive Presence for Everyone"

We have all met people with a high Executive Presence Quotient (EPQ). You know, the ones who exude confidence with a compelling combination of warmth and strength. So, why should you be projecting anything less with your own persona? This highly interactive workshop has shown thousands how to convey a more dynamic and authentic communication style in their interactions with clients, colleagues, bosses, employees, and the media. After assessing your own EPQ, you will find out how to raise it using the tools of voice, body language and humor. Don't check your personality at the door. Instead, learn how to combine style with substance to make a memorable impression with everyone you meet. For more information...
---
Mastering Self-Promotion
By Tory Johnson, CEO, Women For Hire
In October 2001, just a month after the horrendous terrorist attacks of September 11, my company, Women For Hire, held one of its largest career expos ever in New York. Nearly 70 leading employers committed to recruiting at this event, which was no small feat given the economic beating the city took in the wake of the collapse of the Twin Towers.
In the midst of the normal chaos of finalizing every detail the day before our event, I received a surprise phone call from President Clinton. After I got over the initial shock that it wasn't just my husband playing a crazy joke, I listened as the former President congratulated me on Women For Hire's success. He reminded me that at the core of our freedom and financial independence in this country is the right to work, and he encouraged me to keep up our efforts. All that in under a minute.
Continued ...
---
---
WITI Marketplace
What an immediate impact we could make if each of us decided to spend our business and consumer dollars on women-owned businesses - to find a coach, consultant, software vendor, dentist, conference-call vendor, phone service, computer and so on from a woman! This is what the WITI Marketplace is all about. There are over 100 women-owned businesses in the Marketplace so you don't have to search far to find the products and services you need! Search the Marketplace today!
Featured Business: ElectionWatches.com
If you're burned out on buttons and bummed out by bumper stickers, you need a new, cooler way to stand up and be counted. What could be cooler than a Waving Watch? Featured on CNN, FOX, Newsweek The Daily News, Boston Globe and others, this watch is destined to be the most coveted collectible of the election season.
It's a great conversation piece, a great gift, and a great way to show your candidate's support in a subtle, sophisticated fashion. The watches start at $25 and upwards depending on the type and quantity you order. There's a full money back guarantee if you're not satisfied.
WITI Members: Receive a 10% Discount when you the enter "WITI" into the special promotional code box at the Electionwatch Store. When you do so, an additional 5% of profits will be donated to WITI so they can report on women's issues in politics!
Robin Raskin of ElectionWatches.com will be at the WITI booth at Digital Life on October 14-17. Drop by and say hi!
Is your business in the WITI Marketplace? Do you have a special offer for WITI members or would you like to be a featured business in a future issue of the Strategist? We'd love to hear from you!
---
The "WE DECIDE!" National Voter Registration Drive is now a reality!
WITI is working with Women Impacting Public Policy (WIPP) and Office Depot to ensure registering to vote can be quick, easy and powerful! All 900 Office Depot locations across America have a space in each store specifically dedicated for voter registration and the www.wedecide2004.com website is up and active. This is a wonderful opportunity for all of us to ensure every tech-savvy and business-savvy woman takes five minutes and registers or re-registers to vote. And we need to ensure that every employee of a woman-owned business is also registered as well. WIPP will use the number of hits to the www.wedecide2004.com website to show the press and politicians that tech-savvy and business-savvy women and those they influence truly are the deciding swing vote in 2004.
So please, take just five minutes and do these three easy things:
Go to www.wedecide2004.com and register or re-register.
Attach the www.wedecide2004.com link with a quick note to your employees, friends and business acquaintances encouraging them to register or re-register at www.wedecide2004.com. Just attach the note and send it to your e-mail address book.
Join the celebration of the 84th Anniversary of Women's Right to Vote by attending the "WE DECIDE!" National Luncheons on August 18th. With 21 locations across America, this will be a tremendous opportunity to highlight the gains women have make in the voting booth and in business. More information is available at www.wedecide2004.com.
FREE WIPP Membership for all new and renewed WITI memberships! For details...
---
Gartner Symposium/ITxpo - An entire year's wisdom... in just 5 days
With the most sought-after knowledge of more one thousand Gartner analysts & consultants distilled into just five days of presentations, Symposium/ITxpo offers you unrivalled ROI (Return on Investment). We invite you to Symposium/ITxpo, to benefit yourself & your company by:
Finding knowledge, advice and solutions to your key IT challenges
Accessing Gartner's unbiased and meticulous research
Leveraging valuable networking opportunities
Gaining unique strategic insights from leading industry Keynote speakers, including Carly Fiorina, Chairman & CEO of HP
Meeting face-to-face with the world's top IT vendors
For more information or to register, visit gartner.com/eu/symposium today.

Gartner also has many other upcoming events! Please visit our Partner Events list for event information.
---
Women For Hire Career Expos Across the U.S.
Network face-to-face with recruiters from top employers at the Women For Hire career expos. A great opportunity for technology professionals! Meet with companies such as BAE Systems, Bloomberg, Boeing, CH Robinson, Cisco Systems, Citigroup, Honda, HSBC Bank, IDX Systems, Integic, JetBlue, Level 3, Nextel, Northrop Grumman, Raytheon, Shell Oil, Sanofi-Synthelabo, Swales Aerospace and MANY MORE!
All events from 10 a.m. to 4 p.m. Free admission for professional women. Resumes and business attire required.
Washington, D.C. - Hilton Crystal City, Sept 30
Chicago - Navy Pier, Oct 7
Boston - Hyatt Regency Boston, Oct 13
New York - The Manhattan Center, Oct 19
San Diego - Wyndham Emerald, Oct 26
Los Angeles - Universal Sheraton, Oct 28
Tampa - Wyndham Harbour Island, Nov 9
Atlanta - Cobb Galleria Centre, Nov 11
Dallas - The Adam's Mark Hotel, Nov 16
Houston - Westin Galleria, Nov 18
Register today for a special early morning seminar prior to each event! Women For Hire CEO Tory Johnson will lead a networking session from 8:30 a.m. to 10 a.m. where she'll share inspiring and practical jobsearch advice. All attendees will receive a copy of our new book,

Women For Hire's Get-Ahead Guide to Career Success

, and priority admittance to the career expo! Visit www.womenforhire.com to register.
---
Mobile Marketing Roadshow Mobile Marketing Event of the Year
This one day event includes Case Studies, Best Practices, Latest Trends, Stats & Facts, Interactive Sessions & more. Coming to Boston, MA, on October 14, 2004. WITI Members: Get $200 off the regular rate! Please visit the Members' Discount Page for the promo code. Register today at www.mobilemarketingroadshow.com or call 212-330-8381.
---

CTIA WIRELESS I.T. & Entertainment®, coming to San Francisco's Moscone Center October 25-27, 2004, is the only show that presents how wireless technologies are being integrated into the enterprise and vertical business markets such as healthcare, government, automotive, retail etc. The capabilities of today's wireless devices continue to expand and improve across business sectors and personal entertainment, and CTIA WIRELESS I.T. & Entertainment effectively delivers wireless data solutions that are right for every segment of the market based on individual needs and budgets. WITI Members: Passes are available! Visit the Member's Area for more information!
---

Paladin International and Business and Technology Insider Radio are bringing you an entire format to prepare you to talk directly with federal agencies about specific opportunities. Don't walk away scratching your head about where to go next...come to "Marketing to the Federal Government" at the Sheraton Premiere in Vienna, VA on Nov 2-4, 2004, and be ready to talk real contracts! Confirmed participants include DHS, ARMY, Commerce, NASA, HHS, DOJ, DSS, OPIC, GSA Advantage and more! We have the Contracting Officers from some of the major agencies presenting contract opportunities. Accomplish more with us in 3 days than you can on your own in a month or more! For more information, visit www.technologyinsider.net/mfg04/.
---
WITI Works
WITI GLOBAL EXECUTIVE NETWORK (GEN)
An Exclusive Network for Executive Women! - Are you an Executive Woman who wants the opportunity to get together with other executive women to share solutions, access connections and influence top level executives in industry? WITI has now launched WITI GEN for Executive VPs, Presidents, Chairman and Board members who meet GEN membership requirements. GEN Teleclasses, led by Barbara Annis exclusively for WITI GEN members, will begin this September. If you want to be considered for a GEN membership, please complete the application and someone will get back to you within 3 days of receiving your application!
WITI4HIRE
Accelerate Your Career! - Companies that get it are searching the resume database at WITI4Hire every day. Don't be overlooked! So, whether you are actively seeking a job or just open to great possibilities, add your resume today (FREE for members AND non-members, and confidential too!) to be noticed by companies like New York Times Digital, Best Buy, Altiris, Southern California Edison and GOJO Industries, Inc. Don't want to wait? Visit WITI4Hire and search for your next job!
Employers Click Here
WITI HALL OF FAME

The WITI Hall of Fame was established in 1996 by WITI to recognize, honor, and promote the outstanding contribution women make to the scientific and technological communities that improve and evolve our society. Join us in New York City in 2005 for the Tenth Anniversary Celebrations.
If you would like to make a nomination for the 2005 WITI Hall of Fame, please download the 2005 nomination form. The nomination deadline is December 1, 2004.
---
Company Spotlight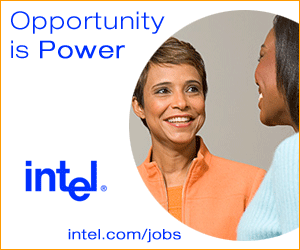 At Intel, we not only believe that people are the greatest investment in a company - we live it. Intelligence. Innovation. Creativity. Culture. These are principles that drive us. We're using these principles each day to create an inspiring workplace where inspiring ideas are rewarded. Discover why the Intel workplace is such a great place to work.
Search for Intel jobs on WITI4Hire.
Job Spotlight
Director of Area Accounts - Novell Inc.
NOVELL INC., a leading provider of information solutions, is seeking a Director of Area Accounts for its Southeast region. This individual will lead Account Executives to achieve sales coverage and customer satisfaction objectives of named accounts. Responsibilities will include positioning Novell for long-term success through identifying and closing deals that generate revenue and are of strategic importance in the customer's business and set the stage for larger follow-on sales; building relationships at the executive level with clients; and creating ongoing relationships so the company is positioned for long-term wins.
Not Yet a WITI Member?
Consider these benefits for WITI members only:
Member spotlights, interviews and speaking opportunities
Invitations to members only meetings and events
List your small business or consulting practice in the WITI Marketplace.
Send/receive e-mails in WITI's general or technical listserves for invaluable and quick input on broad ranging issues.
Special Interests Groups
New Member Directory
Special discounts at all WITI events and meetings worldwide
And much, much, more .... Become a Member Today!
Upcoming Network Events:
October 4 - Austin
Parenting Your Parents
October 5 - New Jersey
Successful Women Entrepreneurs
October 7 - Los Angeles
Executive Presence with Peggy Klaus
October 12 - Portland
Networking Event
October 13 - Boston
The Naked Truth -- A Working Woman's Manifesto on Business and What Really Matters
October 14 - Portland
Driving Your Own Career
October 16 - Michigan
Bring Your Daughters to Breakfast
October 20 - Portland
Influence Without Authority: Practical Tools For Getting Things Done
October 20 - Boston
Second Annual "Women Leading Reinvention and Innovation"
October 21 - Atlanta
Ladders of Success: Mentoring and Leadership
October 26 - South Florida
CIO & Silent Auction Rescheduled for Oct. 26
October 26 - New York
CSC - Integrated Marketing and Communications for IT Outsourcing
November 3 - Houston
HOUSTON'S IT MARKET DEMOGRAPHICS AND EMERGING TECHNOLOGIES
November 4 - Corpus Christi
"Triple F Effect" - Method of Achievement
November 9 - Portland
Leadership and Strategic Relationship Building Panel Discussion
November 10 - Orange County
WITI - Orange County Awards: Tribute to Leaders
November 19 - Michigan
Michigan WITI Awards: Honoring Outstanding Companies Supporting Women
December 1 - Houston
WITI Holiday Networking Party
December 7 - Portland
Networking Event

More information about network events in your area is available on our website.
WITI @ ...Keeping you up-to-date on where you'll find WITI!
WITI@ keeps you up to date on where you will find WITI partners, WITI discounts, WITI women attending industry events. Visit the Members area of the WITI website for priority discount codes for these events. If you want a discount to an event you will be attending and/or want to meet other WITI women at that event, just let us know so we can get it for you!
Gartner Application Development Summit: The Path to Modern AD
Sep 27 2004-Sep 29 2004
Phoenix, Arizona
Recruiting and Workforce Acquisition Technology 2004 - Tooling Up For The Next Talent War
Sep 27 2004
Chicago, Illinois
Pipeline Seminiar: Boardroom Bound
Sep 28 2004-Sep 29 2004
Washington, District of Columbia
Drive Human Capital Results by Engaging and Retaining Key Talent
Sep 28 2004
Chicago, Illinois
Venture Scene New Jersey presents What Matters Most in Obtaining Venture Funding?
Sep 28 2004
East Brunswick, New Jersey
WIPP 2004 Leadership and Power Strategy Meeting
Sep 28 2004-Sep 29 2004
Washington, District of Columbia
Drive Human Capital Results by Engaging and Retaining Key Talent
Sep 29 2004
Washington, District of Columbia
Women For Hire Career Expo
Sep 30 2004
Washington, District of Columbia
Gartner CRM Summit Fall 2004
Oct 4 2004-Oct 6 2004
Phoenix, Arizona
TECHXNY - New York's Technology Week
Oct 5 2004-Oct 7 2004
New York, New York
Drive Human Capital Results by Engaging and Retaining Key Talent
Oct 5 2004
Minneapolis, Minnesota
Women For Hire Career Expo
Oct 7 2004
Chicago, Illinois
Women For Hire Career Expo
Oct 13 2004
Boston, Massachusetts
DigitalLife
Oct 14 2004-Oct 17 2004
New York City, New York
Mobile Marketing RoadShow
Oct 14 2004
Boston, Massachusetts
Gartner Presents Symposium/ITxpo 2004
Oct 17 2004-Oct 22 2004
Orlando, Florida
Women For Hire Career Expo
Oct 19 2004
New York, New York
OOPSLA '04
Oct 24 2004-Oct 28 2004
Vancouver, British Columbia
CTIA Wireless IT & Entertainment 2004
Oct 25 2004-Oct 27 2004
San Francisco, California
Recruiting and Workforce Acquisition Technology 2004 - Tooling Up For The Next Talent War
Oct 25 2004
San Francisco, California
Women For Hire Career Expo
Oct 26 2004
San Diego, California
Recruiting and Workforce Acquisition Technology 2004 - Tooling Up For The Next Talent War
Oct 27 2004
Seattle, Washington
Women For Hire Career Expo
Oct 28 2004
Los Angeles, California
Gartner Symposium ITxpo
Oct 31 2004-Nov 4 2004
Cannes, Outside US/Canada
Drive Human Capital Results by Engaging and Retaining Key Talent
Nov 1 2004
Boston, Massachusetts
Marketing to the Federal Government
Nov 2 2004-Nov 4 2004
Vienna, Virginia
Drive Human Capital Results by Engaging and Retaining Key Talent
Nov 3 2004
New York, New York
Technology Review: Talent Management Systems
Nov 4 2004
On the Web,
Women For Hire Career Expo
Nov 9 2004
Tampa, Florida
Women For Hire Career Expo
Nov 11 2004
Atlanta, Georgia
Gartner presents Application Integration & Web Services
Nov 15 2004-Nov 17 2004
Kissimmee, Florida
Women in Leadership Summit
Nov 15 2004-Nov 17 2004
Boston, Massachusetts
Women For Hire Career Expo
Nov 16 2004
Dallas, Texas
Women For Hire Career Expo
Nov 18 2004
Houston, Texas
Gartner 23rd Annual Data Center Conference
Nov 30 2004-Dec 2 2004
Las Vegas, Nevada
Oracle Open World
Dec 5 2004-Dec 9 2004
San Francisco, California

For more information and discounts