Member Login | Membership Sign Up

Step Onto the Financial Independence Track
By Jane Herman
What do you do when you get angry or frustrated with your financial situation? Perhaps, like many others you get motivated to set specific financial goals -- for example, to pay off a particular credit card, cut expenses, or pursue a raise. Having financial goals is great, but I want to open your mind to an even bigger step you can take: putting yourself on the Financial Independence Track. When you are on the Financial Independence Track, there is an end point on which you are focused -- Financial Independence -- and having this longer-term vision makes all your short-term financial goals easier to set and to achieve.
WITI's 15th Anniversary Membership Drive
Join or renew your WITI membership today to receive over $474 in savings. Plus FREE Membership in Two Partner Organizations! For more information, please visit our website.
Already an active WITI Member? Please visit the Member's Area for new free videos from our 2004 National Conference as well as access to discounts and the Members Directory.
---
No Technology Left Behind
By Robin Raskin
An election year always puts the spotlight on education and this year the buzzword is accountability. Technology is going to play a bigger part than ever in making sure kids are mastering the basics.
Education may also be as close to a non partisan issue as we'll get this year. You may recall that President Bush's signed the No Child Left Behind legislation soon after he took office. It made it mandatory that schools and their students be tested and accessed on performance in grades 3-8. Some educators argue that too much attention has been placed on testing, but overall, the idea that tests should be able to measure how well a child is mastering some skill is a valid one.
It's so valid, the Big Kahuna of tests, the SAT, is changing in order to better measure real academic performance.
Continued ...
---
Women on the Move
Do you have an announcement or promotion you'd like to share? Use the form in the Member's Area to send us your news to appear in the Strategist and also on our website. If you prefer, you can also email the editor.
---
WITI Marketplace
What an immediate impact we could make if each of us decided to spend our business and consumer dollars on women-owned businesses - to find a coach, consultant, software vendor, dentist, conference-call vendor, phone service, computer and so on from a woman! This is what the WITI Marketplace is all about. There are over 100 women-owned businesses in the Marketplace so you don't have to search far to find the products and services you need! Search the Marketplace today!
Featured Business: Margaret E. Anderson Interpersonal Persuasion Training
Margaret E. Anderson Interpersonal Persuasion Training offers training, consulting and coaching in persuasion skills, including communicating persuasively, conflict resolution, collaboration, intergender and interculture, negotiation, sales. Margaret E. Anderson is offering a free 30 minute telephone coaching session to WITI members; just mention this announcement!
Is your business in the WITI Marketplace? Do you have a special offer for WITI members or would you like to be a featured business in a future issue of the Strategist? We'd love to hear from you!
---
Women For Hire Career Expos Across the U.S.
Network face-to-face with recruiters from top employers at the Women For Hire career expos. A great opportunity for technology professionals! Meet with companies such as BAE Systems, Bloomberg, Boeing, CH Robinson, Cisco Systems, Citigroup, Honda, HSBC Bank, IDX Systems, Integic, JetBlue, Level 3, Nextel, Northrop Grumman, Raytheon, Shell Oil, Sanofi-Synthelabo, Swales Aerospace and MANY MORE!
All events from 10 a.m. to 4 p.m. Free admission for professional women. Resumes and business attire required.
Atlanta - Cobb Galleria Centre, Nov 11
Dallas - The Adam's Mark Hotel, Nov 16
Houston - Westin Galleria, Nov 18
Register today for a special early morning seminar prior to each event! Women For Hire CEO Tory Johnson will lead a networking session from 8:30 a.m. to 10 a.m. where she'll share inspiring and practical jobsearch advice. All attendees will receive a copy of our new book,

Women For Hire's Get-Ahead Guide to Career Success

, and priority admittance to the career expo! Visit www.womenforhire.com to register.
---
WITI Works
WITI GLOBAL EXECUTIVE NETWORK (GEN)
An Exclusive Network for Executive Women! - Are you an Executive Woman who wants the opportunity to get together with other executive women to share solutions, access connections and influence top level executives in industry? WITI has now launched WITI GEN for Executive VPs, Presidents, Chairman and Board members who meet GEN membership requirements. GEN Teleclasses, led by Barbara Annis exclusively for WITI GEN members, will begin this September. If you want to be considered for a GEN membership, please complete the application and someone will get back to you within 3 days of receiving your application!
WITI4HIRE
Accelerate Your Career! - Companies that get it are searching the resume database at WITI4Hire every day. Don't be overlooked! So, whether you are actively seeking a job or just open to great possibilities, add your resume today (FREE for members AND non-members, and confidential too!) to be noticed by companies like New York Times Digital, Best Buy, Altiris, Southern California Edison and GOJO Industries, Inc. Don't want to wait? Visit WITI4Hire and search for your next job!
Employers Click Here
WITI HALL OF FAME

The WITI Hall of Fame was established in 1996 by WITI to recognize, honor, and promote the outstanding contribution women make to the scientific and technological communities that improve and evolve our society. Join us in New York City in 2005 for the Tenth Anniversary Celebrations.
If you would like to make a nomination for the 2005 WITI Hall of Fame, please download the 2005 nomination form. The nomination deadline is February 1, 2005.
---
Company Spotlight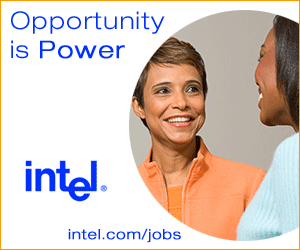 At Intel, we not only believe that people are the greatest investment in a company - we live it. Intelligence. Innovation. Creativity. Culture. These are principles that drive us. We're using these principles each day to create an inspiring workplace where inspiring ideas are rewarded. Discover why the Intel workplace is such a great place to work.
At Intel, our dedication to diversity and multiculturalism is put into practice each day. It can be seen in the lives of a global workforce of more than 78,000 employees in over 48 nations. And it can be felt by a continuing commitment to provide an inclusive workplace where unique perspectives, talents and skills are fostered. Discover how Intel values the ideas and experiences of each of our employees.
Search for Intel jobs on WITI4Hire.
Job Spotlight
Field Engineer - Nordson Corporation
This position will have responsibility for primary contact between Nordson and all existing customers, providing maintenance of all existing customers. Additional responsibilities include providing necessary technical support to all customers in assigned territory/region including installation supervision/technical support for the designated manual and automatic systems and after installation technical support to customers of installed base, selling designated accessory components, parts and instruments to all existing customers in assigned territory, and "pulling in" designated system specialist to act as primary sales contact.
Not Yet a WITI Member?
Consider these benefits for WITI members only:
Member spotlights, interviews and speaking opportunities
Invitations to members only meetings and events
List your small business or consulting practice in the WITI Marketplace.
Send/receive e-mails in WITI's general or technical listserves for invaluable and quick input on broad ranging issues.
Special Interests Groups
New Member Directory
Special discounts at all WITI events and meetings worldwide
And much, much, more .... Become a Member Today!
Upcoming Network Events:
November 10 - Orange County
Moving Powerfully Into the Future: Dara Duguay, author of "Please Send Money & Don't Spend Your Raise"
November 17 - Boston
The Evolving Role of Women's Leadership in Technology
November 18 - Portland
Professional Development Program: How to Develop an Effective Powerful Data Presentation
November 18 - New Jersey
HOLIDAY NETWORKING SOCIAL
November 30 - Houston
WITI Holiday Networking Party
December 1 - Los Angeles
WITI Holiday Networking Happy Hour
December 2 - Silicon Valley
WITI Holiday Networking Party
December 2 - New Mexico
Holiday Networking Party
December 2 - Cleveland
WITI Holiday Networking Happy Hour
December 6 - Philadelphia
Close out the year with a fresh start for the Philadelphia Chapter of WITI
December 7 - Portland
Networking Event
December 7 - Atlanta
WITI Holiday Networking Event - Speaker Gail Evans "She Wins You Win"
December 9 - Corpus Christi
WITI Holiday Networking Party
January 5 - Houston
Maximizing Performance and Balancing Life

More information about network events in your area is available on our website.
WITI @ ...Keeping you up-to-date on where you'll find WITI!
WITI@ keeps you up to date on where you will find WITI partners, WITI discounts, WITI women attending industry events. Visit the Members area of the WITI website for priority discount codes for these events. If you want a discount to an event you will be attending and/or want to meet other WITI women at that event, just let us know so we can get it for you!
Women For Hire Career Expo
Nov 11 2004
Atlanta, Georgia
Hire the Best - Using Assessment Measures to Optimize Your Hiring Processes
Nov 11 2004
Chicago, Illinois
Gartner presents Application Integration & Web Services
Nov 15 2004-Nov 17 2004
Kissimmee, Florida
Women in Leadership Summit
Nov 15 2004-Nov 17 2004
Boston, Massachusetts
Women For Hire Career Expo
Nov 16 2004
Dallas, Texas
Hire the Best - Using Assessment Measures to Optimize Your Hiring Processes
Nov 16 2004
San Francisco, California
Recruiting and Workforce Acquisition Technology 2004
Nov 16 2004
Seattle, Washington
Why Smart Executives Fail
Nov 16 2004
Chicago, Illinois
Hire the Best - Using Assessment Measures to Optimize Your Hiring Processes
Nov 17 2004
Los Angeles, California
Recruiting and Workforce Acquisition Technology 2004
Nov 17 2004
San Francisco, California
Why Smart Executives Fail
Nov 17 2004
Washington, District of Columbia
Women For Hire Career Expo
Nov 18 2004
Houston, Texas
Gartner 23rd Annual Data Center Conference
Nov 30 2004-Dec 2 2004
Las Vegas, Nevada
Real Talent Management: What Top Organizations are Doing
Nov 30 2004
On the Web
Oracle Open World
Dec 5 2004-Dec 9 2004
San Francisco, California

For more information and discounts