Member Login | Membership Sign Up

The Great American Dream Challenge: Faith Restored
By Marcia Wieder
Years ago, people came to America in pursuit of their dreams and still do to seek a better life. Work hard, stay focused and you can achieve the American Dream. But our nation, in fact our world, changed on September 11, 2001. Our hearts and spirits were broken, fear and cynicism crept into our collective consciousness, and many are still in need of restoration.
To prove that we are still a country that dreams, I launched the Great American Dream Challenge. Nationwide, people are pledging to use the next twelve months to embark upon new dreams, demonstrate our belief in these dreams and to actually attaining them. What is unique and exciting is that we have forged a community with a common bond dedicated to helping each other realize these dreams. It's called the WITI Dream Circle.
Continued ...
---
WITI's 15th Anniversary Membership Drive

Hurry! This Special Deal Ends December 31st!
Join or renew your WITI membership today to receive over $474 in savings. Plus FREE Membership in Two Partner Organizations! For more information, please visit our website.
Already an active WITI Member? Please visit the Member's Area. There is a new Article Library, more free videos from our 2004 National Conference, access to discounts and the Members Directory. Coming soon: Publication opportunities for your articles on WITI's website... Share your knowledge!
---
Create Your Own Empowering Environments
By Jane Herman
There is "You" and there is everything else. The "everything else" is your environment. Did you know that you can dramatically increase your ability to succeed both personally and professionally, while at the same time making your life much easier, by simply changing your relationship to your environment?
Your environment includes:
Other people (relationships)
Your physical environment:

Nature, air, light, sound, animals
Things (such as your house, office, car, clothes, furniture, computers, phones, etc.)

Ideas (concepts, information)
Intangibles - such as time and energy
Everyone knows the phrase, "You are a product of your environment," but most people never realize that they have the potential to proactively design and create environments that bring out their best.
---
WITI Talk TeleClasses: Transforming your Future!
Are you ready to transform your life and/or your career? Do you need help figuring out "what next?" Do you want to explore what your life purpose is, so that you can create a "Mission Statement" for your life? Do you have a Mission Statement, but don't know where to go from here? If you answered YES to any of these questions, please join us for a WITITalk Teleclass. Participants in these teleclasses have made major changes in their lives, after just the first class!

WITI Members: Visit the Members' Area for promo codes to receive an additional $25 off this TeleClass! Register now!
---
Women on the Move
Dr. Yaffa Beck named Presidend and CEO of Israeli Bio-tech firm
Dr. Yaffa Beck has been named President and Chief Executive Officer of BrainStorm Cell Therapeutics Inc. (BrainStorm), an Israeli company with a recent partnership with Tel Aviv University to collaborate on the development of cutting-edge technology for differentiation of bone marrow derived stem cells into functional neuronal-like cells. Dr. Beck has over 22 years experience in the Israeli biotechnology industry and brings extensive management experience, including financing, operations, business development, pre-clinical and clinical development. Most recently, she served as President and CEO of VentuRx Holdings Ltd., her own consulting company, pursuing innovative technologies in the life sciences.
"I am very excited about joining the company and am looking forward to a fruitful relationship with the talented researchers at Tel-Aviv University. I am confident that their pioneering achievements can be developed from the lab to the clinic to bring future benefit to a large number of patients," said Beck.
BrainStorm is developing NurOwn™ cell therapy products sourced from adult stem cells for treatment of neurodegenerative diseases. The company is initially focusing on development of bone marrow derived neural-like cells for Parkinson's disease.
"We believe that adult stem cell therapies are the logical next step in stem cell clinical applications. Stem cells from bone marrow hold the promise to be just as effective as embryonic stem cells, without posing the moral or ethical issues inherent in the use of embryonic tissue. Moreover, by focusing on the development of NurOwn™, autologous cell transplants derived from the patients' themselves, we can avoid side effects and overcome immune rejection."
Do you have an announcement or promotion you'd like to share? Use the form in the Member's Area to send us your news to appear in the Strategist and also on our website. If you prefer, you can also email the editor.
---
WITI Marketplace
What an immediate impact we could make if each of us decided to spend our business and consumer dollars on women-owned businesses - to find a coach, consultant, software vendor, dentist, conference-call vendor, phone service, computer and so on from a woman! This is what the WITI Marketplace is all about. There are over 100 women-owned businesses in the Marketplace so you don't have to search far to find the products and services you need! Search the Marketplace today!
Featured Business: Gorman Richardson Architects
GRA is a full service planning, interior design and architecture firm. Our clients include the corporate, advanced and bio technology, multifamily and single family residential, educational, institutional and manufacturing sectors. We specialize in partnering with our clients to help them realize their programmatic, aesthetic, budget and schedule goals.
Is your business in the WITI Marketplace? Do you have a special offer for WITI members or would you like to be a featured business in a future issue of the Strategist? We'd love to hear from you!
---
Partner Events & Announcements
Delivering Highly Scalable, Reliable J2EE Web Infrastructure
J2EE continues to deliver more adaptable and efficient business Web environments, and ebizQ.net is proud to present IBM Senior Engineer Ruth Willenborg and industry analyst Jasmine Noel in a free live Webinar entitled "Delivering Highly Scalable, Reliable J2EE Web Infrastructure" on December 16 at 12 p.m. ET. To find out more, pre-register or view a schedule of ebizQ's other Webinars, go to www.ebizq.net/webinars/5370.html?witi.
LinuxWorld Conference & Expo
Linuxworld Conference & Expo is the world's leading and most comprehensive event focusing on Linux and Open Source solutions. And it's coming to Boston February 14 - 17, 2005! Come hear directly from industry leaders how companies across the globe have achieved higher profits and increased their productivity by utilizing Linux - the fastest-growing operating system in the world. For more information please visit www.linuxworldexpo.com. WITI Members: Visit the Members' Area for discount information.
---
WITI Works
WITI GLOBAL EXECUTIVE NETWORK (GEN)
An Exclusive Network for Executive Women! - Are you an Executive Woman who wants the opportunity to get together with other executive women to share solutions, access connections and influence top level executives in industry? WITI has now launched WITI GEN for Executive VPs, Presidents, Chairman and Board members who meet GEN membership requirements. GEN Teleclasses, led by Barbara Annis exclusively for WITI GEN members, will begin this September. If you want to be considered for a GEN membership, please complete the application and someone will get back to you within 3 days of receiving your application!
WITI4HIRE
Accelerate Your Career! - Companies that get it are searching the resume database at WITI4Hire every day. Don't be overlooked! So, whether you are actively seeking a job or just open to great possibilities, add your resume today (FREE for members AND non-members, and confidential too!) to be noticed by companies like New York Times Digital, Best Buy, Altiris, Southern California Edison and GOJO Industries, Inc. Don't want to wait? Visit WITI4Hire and search for your next job!
Employers: FREE Labor's Future Trends White Paper with any order. Hurry, offer ends December 31st! Job postings are available starting at only $250, but only for a limited time! More information.
WITIhost.com
If You Are Fed Up With Your Hosting Company or Just Want To Upgrade! - WITIhost.com has better rates, more capacity and better service than major hosting companies. Check out WITIhost.com for comparisons and fees.
WITI HALL OF FAME

The WITI Hall of Fame was established in 1996 by WITI to recognize, honor, and promote the outstanding contribution women make to the scientific and technological communities that improve and evolve our society. Join us in New York City in 2005 for the Tenth Anniversary Celebrations.
If you would like to make a nomination for the 2005 WITI Hall of Fame, please download the 2005 nomination form. The nomination deadline is February 1, 2005.
---
Company Spotlight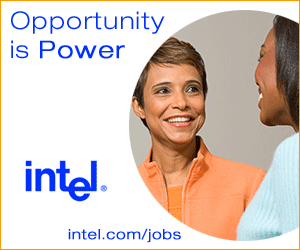 Intel would like to offer you an inside look at our company as a great place to work. As part of our dedication to diversity, we are proud to introduce Intels Success Through Diversity Jobs at Intel Newsletter. The goal of this new monthly newsletter is to provide you with the information you need to better understand Intels career opportunities, company culture, and employeesso you can find the job at Intel thats right for you.
In addition to regular feature articles, employee profiles, job search tools, reminders and resources for finding a job at Intel each newsletter also has three different Success Through Diversity feature articles. You can sign up for one, two, or all three.  Our feature articles focus on different community groups at Intel such as: African Americans at Intel, Latinos at Intel and Women in Technology at Intel.
Click here to sign up and receive Intel's Success Through Diversity Newsletter today.
Search for Intel jobs on WITI4Hire.
Job Spotlight
Supplier Quality Team Leader - GE Healthcare
Be a part of a global organization that is driving exceptional product quality for the patient, value beyond customer expectations, and optimized Cost of Quality for GE Healthcare (GEHC). This is a key technical leadership position, with interaction among engineering, manufacturing, sourcing, and the supplier base. Position will be the Supplier Quality Engineer (SQE) lead for the one of several commodities within the supplier base. Accelerate improvements on critical field issues and global NPI opportunities. Drive Supplied Part Quality improvements to minimize the Costs of Quality, specifically Failed on Arrival (FOA) issues, Field Failures, and Factory defects. Prioritize efforts and maximize the Cost of Quality benefit to GEHC and its customers. Drive world-class supplier selection through the use of robust qualification processes. Improve quality performance via of quality plans for key suppliers and New Product Introductions. Utilize the Global toolset and commodity-specific knowledge to accelerate improvements in Supplier Quality and deliver game-changing value to GEHC.
Not Yet a WITI Member?
Consider these benefits for WITI members only:
Member spotlights, interviews and speaking opportunities
Invitations to members only meetings and events
List your small business or consulting practice in the WITI Marketplace.
Send/receive e-mails in WITI's general or technical listserves for invaluable and quick input on broad ranging issues.
Special Interests Groups
New Member Directory
Special discounts at all WITI events and meetings worldwide
And much, much, more .... Become a Member Today!
Upcoming Network Events:
December 9 - Corpus Christi
WITI Holiday Networking Party
December 14 - Chicago
Holiday Party/Success, Ambition, and Accomplishment: A Women in IT Leadership Forum
December 14 - Los Angeles
Professional Development Committee - 2004 Wrap Up Meeting
January 5 - Houston
Maximizing Performance and Balancing Life
January 12 - Los Angeles
Effectively Achieving Your Financial Goals
February 2 - Houston
Career Strategies and Job Search Workshop
February 19 - Atlanta
Whats New for 2005 - Technology and Opportunities
March 2 - Houston
Opening Windows in the Glass Ceiling: 6 Key Practices of Successful Women Leaders
April 21 - Atlanta
WITI Mentoring - Making the Connection
April 28 - Philadelphia
Women and the Modern Business World

More information about network events in your area is available on our website.
WITI @ ...Keeping you up-to-date on where you'll find WITI!
[email protected] keeps you up to date on where you will find WITI partners, WITI discounts, WITI women attending industry events. Visit the Members area of the WITI website for priority discount codes for these events. If you want a discount to an event you will be attending and/or want to meet other WITI women at that event, just let us know so we can get it for you!
Contractors, Consultants and Compliance: Strategies in Effective Contingent Workforce Management
Dec 7 2004
On the Web
Human Capital Management Principles
Dec 9 2004-Dec 10 2004
On the Web
Delivering Highly Scalable, Reliable J2EE Web Infrastructure
Dec 16 2004
On the Web
Human Capital Management Principles
Jan 6 2005-Jan 7 2005
On the Web
Human Capital Management Principles
Jan 17 2005-Jan 18 2005
Washington, District of Columbia
LinuxWorld Conference & Expo
Feb 14 2005-Feb 17 2005
Boston, Massachusetts

For more information and discounts