Member Login | Membership Sign Up

The Consumer Electronics Industry Opened Pandora's Box but the Contents are Sure Being Stubborn
By Robin Raskin
Every January, in what's become a New Year's ritual, hundreds of thousands of visitors from all over the world converge on Las Vegas to see the latest gadgets at the Consumer Electronics Show (CES) in Las Vegas. But this year was different. It was the year that it became clear that innovation would come to a standstill unless content providers, distribution platforms and policy-makers were all willing to play ball, too.
For as long as I can remember, the CES mantra has been "smaller, cheaper, faster".
Continued ...
---
WITI's 2005 National Conference!


Taking the Lead... In the Digital Age


Los Angeles, CA -- May 5 & 6, 2005

WITI's 11th Annual National Conference is moving to Los Angeles and is guaranteed to be the most dynamic conference you've ever attended. WITI is committed to being your partner for success and has designed the conference to maximize the amount of connections, information and resources available to you -- so you can move beyond your challenges and move forward smarter and faster. Highlights include:
Taste of Technology Reception
WITI Mastermind Networking Party
Sessions like "Martha's Jailed, Carly's Gone: What Went Wrong or Are Women Just Getting the Blame?", "Tools for Business Networking" and "The Money Conversation"
WITI Tech Expo and and Opportunity Expo
Click here for more information.

Has someone mentored you toward achieving your career dreams? Nominate your Corporate Champion before March 4th to see them recognized at the National Conference!

Exhibit space and sponsorships are still available.
---
Success Tools For Highly Creative People
By Jane Herman
Many people have creative sides to their nature, or creative flashes in their otherwise logical lives. There are other unique individuals whose creative gifts define their life. Their creativity fuels them and at the same time drives them, colors their perceptions of the world and of others, and influences their personal relationships. Highly creative people are always in the process of creating and cultivating the garden that is their lives. To all of you creatives I offer some seeds and some tools: some seeds of self-awareness and some tools for potential power and action. You decide which belong in your garden: which seeds to plant and water, and which tools to use. Continued ...
---
WITI Talk TeleClasses: Transforming your Future!
Are you ready to transform your life and/or your career, but need help figuring out "what next?" Do you know that there must be "more to life," but you aren't sure how to go about finding it? Do you want to explore what your life purpose is so you can create a "Mission Statement" for your life? Have you created a Mission Statement for your life, but don't know where to go from here? If you answered YES to any of these questions, please join us for a WITITalk Teleclass. Participants in these teleclasses have made major changes in their lives, after just the first class!

WITI Members: Visit the Members' Area for promo codes to receive an additional $25 off this TeleClass! Register now!
---
Making a Contingent Workforce Career
By David Creelman
While we sometimes mutter about wanting to work for ourselves, most people, most of the time, really want to work for an organization. However, there is a large segment of the population that, for better or worse, needs to build their career outside an organization. These are the temps, independent contractors and free agents. If you are not already in one of those categories, someday you might be. What does the future hold for those who need to build their careers without organizations?
Continued ...
---
News for WITI Members

By popular request, we have expanded the Member Profile and Member Search benefits! To faciliate networking among WITI Members, we've made it possible to search the Member Directory for individuals by industry, expertise, education, and more. Check out the improved Member Search. And be sure to update your Member Profile. WITI networking just got more powerful!
WITI is now accepting submissions for publication! Publication is an excellent opportunity to earn increased visibility and recognition as an expert in your field. WITI gladly accepts submissions for publication on our web site or in the Strategist, our bi-monthly eNewsletter. For more information or to make a submission, please visit the Members' Area.
Not a WITI Member? Join us today!
---
Women on the Move
Do you have an announcement or promotion you'd like to share? Use the form in the Member's Area to send us your news to appear in the Strategist and also on our website. If you prefer, you can also email the editor.
---
WITI Marketplace
What an immediate impact we could make if each of us decided to spend our business and consumer dollars on women-owned businesses - to find a coach, consultant, software vendor, dentist, conference-call vendor, phone service, computer and so on from a woman! This is what the WITI Marketplace is all about. There are over 100 businesses in the Marketplace so you don't have to search far to find the products and services you need! Search the Marketplace today!
Featured Business: Milum Corporation/Office Tracker
Think about how many things your office schedules each day: appointments, meetings, rooms, staff, vacation time, special events, training classes, project deadlines, facilities, autos, equipment, the list goes on and on.
Now imagine the perfect scheduling solution. Office Tracker helps you and your entire company to make sure everyone's appointments are confirmed, meetings are well planned, your service staff knows where they are supposed to be and when, you know which rooms are being used and which ones are free. With Office Tracker you know what the rest of the office is up to - up to the minute, and when you're on top of things, you know you're going to have a great day.
Is your business in the WITI Marketplace? Do you have a special offer for WITI members or would you like to be a featured business in a future issue of the Strategist? We'd love to hear from you!
---
Partner Events & Announcements
Buying Solo & Wealth Success Workshops
Financial Guru Vanessa Summers, author of Buying Solo: The Single Woman's Guide to Buying Her Own Home and Get In The Game! - The Girls' Guide To Money & Investing is coming to St. Louis on March 8th and to Los Angeles on March 23. Plan now to attend one of these FREE events! Vanessa will offer a preview orientation of her critically acclamined One-Day Wealth & Success Workshop. Topics will include:
Why a home is the best investment a single woman can make.
How even the credit-challenged can buy.
How to maximize your ability to generate wealth via residential and investment income property.
How to develop a wealthy & successful mindset.
How to create and achieve both your personal and business financial goals.
Powerful secrets to being a successful investor.
Do you work too hard for not enough money? Do you dream of having more cash, less financial stress and a plan tailored for you to create financial freedom? Then this evening is perfect for you!!

In St. Louis, the event will be at The University Club Tower (1034 S. Brentwood Blvd. / The Presidents Room - 22 Floor) from 5.30 to 7.30 pm on March 8, 2005. In Los Angeles, the event will be at Brookstreet Securites (9300 Wilshire Blvd., Ste. 420, Beverly Hills) from 6.00 to 8.30 pm on March 23, 2005.
---
Women For Hire Career Expos Across the U.S.
Network face-to-face with recruiters from top employers at the Women For Hire career expos. Meet with companies such as Aon Corporation, Cbeyond Communications, General Dynamics, Southwest Airlines, Swales Aerospace, Tech Data Corporation, United Space Alliance, Verizon and MANY MORE! Free admission. Resumes and business attire required.
Chicago, Tuesday, March 8th (Navy Pier 10am-3pm)
Dallas, Tuesday, March 22nd (Adam's Mark 10am-3pm)
Houston, Thursday, March 24th (Westin Galleria 10am-2pm)
D.C., Wednesday, March 30th (Hilton Crystal City 10am-2pm)
San Diego, Tuesday, April 5th (Westin Horton Plaza 10am-2pm)
Los Angeles, Thursday, April 7th (Hilton Universal 10am-2pm)
Tampa, Tuesday, April 12th (Wyndham Harbour Island 10am-2pm)
Atlanta, Thursday, April 14th (Cobb Galleria 10am-3pm)
Boston, Tuesday, April 19th (Hyatt Regency 10am-2pm)
Register today for a special early morning seminar prior to each event! Women For Hire CEO Tory Johnson will lead a networking session from 8:30 a.m. to 10 a.m. where she'll share inspiring and practical jobsearch advice. All attendees will receive a copy of our book,

Women For Hire's Get-Ahead Guide to Career Success

, and priority admittance to the career expo! Visit www.womenforhire.com to register.
---
Women Leading Change
This award-winning leadership program is for women who have bold, audacious goals to accomplish but want to get there without sacrificing their health or family. Participants learn how to reveal and shift even the most deeply held beliefs that limit extraordinary performance in themselves and others. Each person brings a real-time work project that in turn that will yield a tenfold return on their tuition investment. Participants will leave with a world-class leadership skill set, a plan for accomplishing their project and a global community of support for sustaining what they have learned. Contact the Institute for Women's Leadership for more information. WITI Members: Visit the Members' Area for discount information.
---
WITI Works
WITI4HIRE
Accelerate Your Career! - Companies that get it are searching the resume database at WITI4Hire every day. Don't be overlooked! So, whether you are actively seeking a job or just open to great possibilities, add your resume today (FREE for members AND non-members, and confidential too!) to be noticed by companies like New York Times Digital, Best Buy, Altiris, Southern California Edison and GOJO Industries, Inc. Don't want to wait? Visit WITI4Hire and search for your next job!
Employers Click Here
WITI HALL OF FAME

The WITI Hall of Fame was established in 1996 by WITI to recognize, honor, and promote the outstanding contribution women make to the scientific and technological communities that improve and evolve our society. Join us in New York City in 2005 for the Tenth Anniversary Celebrations.
---
Company Spotlight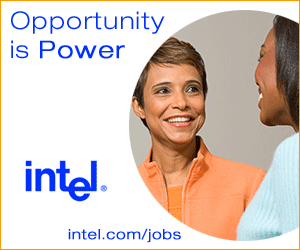 Intel would like to offer you an inside look at our company as a great place to work. As part of our dedication to diversity, we are proud to introduce Intel's Success Through Diversity Jobs at Intel Newsletter. The goal of this new monthly newsletter is to provide you with the information you need to better understand Intel's career opportunities, company culture, and employees'so you can find the job at Intel that's right for you.
In addition to regular feature articles, employee profiles, job search tools, reminders and resources for finding a job at Intel each newsletter also has three different Success Through Diversity feature articles. You can sign up for one, two, or all three.  Our feature articles focus on different community groups at Intel such as: African Americans at Intel, Latinos at Intel and Women in Technology at Intel.
Click here to sign up and receive Intel's Success Through Diversity Newsletter today.
Search for Intel jobs on WITI4Hire.
Job Spotlight
Unix Systems Engineer/Administrator -- University of California Santa Cruz
Under direction of the ITS System Group Manager, the selected candidate will be an integral member of the deployment of the campus enterprise systems and services. The selected candidate will specifically be involved in operational support, architectural development, project communication and education processes associated with campus enterprise systems. Preferred qualifications include experience with the installation and system tuning for Linux and Solaris environment; experience with enterprise level email system and directory services (LDAP) deployment and support; and experience with Apache, Twiki, Microsoft Project, Visio and Microsoft Office suite.
Not Yet a WITI Member?
Consider these benefits for WITI members only:
Member spotlights, interviews and speaking opportunities
Invitations to members only meetings and events
List your small business or consulting practice in the WITI Marketplace.
Send/receive e-mails in WITI's general or technical listserves for invaluable and quick input on broad ranging issues.
Special Interests Groups
New Member Directory
Special discounts at all WITI events and meetings worldwide
And much, much, more .... Become a Member Today!
Upcoming Network Events:
March 8 - Portland
What Is Professional Coaching? -- An Interactive Seminar featuring Caroline Weitzer
March 9 - Orlando
Breaking the Glass Ceiling - The Who's Who
March 16 - San Diego
Speaker Series: "How to Consult and Make Money at It!"
March 16 - Boston
Women Leading Reinvention and Innovation
March 23 - Atlanta
Executive Workshop Series: SUCCESS BY DESIGN
April 4 - Boston
Igniting Passion in your Work and Life
April 5 - Portland
Networking Event & Mini-Program: "What does your professional image say about you?"
April 6 - Orlando
Laugh at Yourself - Others Are!
April 7 - San Diego
Moving Research Products Into Clinical Diagnostics: "What You Need to Know"
April 12 - San Diego
Speaker Series: "7 Secrets To Sales Success in 2005"
April 19 - Los Angeles
Channel Marketing - Leverage Partners for Success
April 21 - Atlanta
WITI Mentoring - Making the Connection
April 25 - Boston
Gender Differences: The Competitive Advantage
April 26 - New York
The Naked Truth: Women and the Modern Business World - An Evening with Margaret Heffernan and Friends
April 26 - Silicon Valley
Speaker Series: "Pursuit of Passionate Purpose: Success Strategies for a Rewarding Personal and Business Life"
April 27 - Philadelphia
The Naked Truth: Women and the Modern Business World - An Evening with Margaret Heffernan and Friends
May 3 - Portland
Feature Presentation: Security
May 10 - Orlando
Take A New Look at Getting Dressed!
May 12 - San Diego
Speaker Series: "The Art of Negotiation"
May 24 - Cleveland
The Naked Truth: Women and the Modern Business World - An Evening with Margaret Heffernan and Friends
May 25 - Chicago
The Naked Truth: Women and the Modern Business World - An Evening with Margaret Heffernan and Friends
May 26 - St. Louis
The Naked Truth: Women and the Modern Business World - An Evening with Margaret Heffernan and Friends

More information about network events in your area is available on our website.
WITI @ ...Keeping you up-to-date on where you'll find WITI!
[email protected] keeps you up to date on where you will find WITI partners, WITI discounts, WITI women attending industry events. Visit the Members area of the WITI website for priority discount codes for these events. If you want a discount to an event you will be attending and/or want to meet other WITI women at that event, just let us know so we can get it for you!
Gartner Customer Relationship Management Summit 2005
Mar 3 2005-Mar 4 2005
London, Outside US/Canada
85 Broads & Arzu
Mar 3 2005
New York, New York
Women For Hire Career Expo
Mar 8 2005
Chicago, Illinois
Women Leading Change
Mar 8 2005-Mar 10 2005
Redwood City, California
International Women's Month: Discerning Your Options, Determining Your Future
Mar 8 2005
Chicago, Illinois
Buying Solo & Wealth Success Workshops
Mar 8 2005
St. Louis, Missouri
85 Broads Networking Event
Mar 15 2005
London, Outside US/Canada
Women For Hire Career Expo
Mar 22 2005
Dallas, Texas
Buying Solo & Wealth Success Workshop
Mar 23 2005
Beverly Hills, California
Women For Hire Career Expo
Mar 24 2005
Houston, Texas
Women For Hire Career Expo
Mar 30 2005
Arlington, Virginia
Women For Hire Career Expo
Apr 5 2005
San Diego, California
Women For Hire Career Expo
Apr 7 2005
Los Angeles, California
Wireless and Mobile Summit 2005
Apr 11 2005-Apr 13 2005
Orlando, Florida
Gartner CIO Academy
Apr 12 2005-Apr 15 2005
London, Outside US/Canada
Women For Hire Career Expo
Apr 12 2005
Tampa, Florida
Women For Hire Career Expo
Apr 14 2005
Atlanta, Georgia
Streaming Media East
May 17 2005-May 18 2005
New York, New York
C3 Expo (Corporate & Channel Computing Expo)
Jun 28 2005-Jun 30 2005
New York, New York

For more information and discounts