Member Login | Membership Sign Up

Think Protirement, Not Retirement
By Vivian VanLier, CPRW, JCTC, CEIP, CCMC, CPRC, Career and Protirement Coach
When Social Security was enacted in 1935, retirement age was set at 65 and people lived an average of 3 _ years more. People looked forward to receiving social security and pensions and spending their later years with hobbies, leisure activities, family time, travel and perhaps some volunteer work. They had worked hard all their lives and now looked forward to winding down and reaping the rewards of their hard work. That was old paradigm. That was also back in the time that people stayed in one job, one industry, and often worked for only one company during their work life.
Since the beginning of the 20th century, approximately 30 years have been added to our lifespan and these years have been added to the middle - not the end of life.
Continued ...
---
WITI Talk TeleClasses:
Are you ready to transform your life and/or your career, but need help figuring out "what next?" Do you know that there must be "more to life," but you aren't sure how to go about finding it? Do you want to join the journey to financial success by making a commitment to uncover and eliminate unconscious barriers to your success? If you answered YES to any of these questions, please join us for a WITITalk Teleclass. Participants in these teleclasses have made major changes in their lives, after just the first class!
---
Powerful Ideas In Tiny Packages
By Jane Herman
I am a collector of quotes. In their concise, imaginative, lyrical, or profound way they summarize the "truths" of our lives and our natures in a way that hits us square in the face. They package insightful wisdom in short, easy to remember, phrases that rest lightly in our minds and yet can catalyze new ideas and actions. Oliver Wendell Holmes Jr., in commenting upon the power of ideas noted, "The mind, once stretched by a new idea, never regains its original dimensions."
I sometimes find that the right quote can be a valuable tool in my Coaching because it can do three things... Continued ...
---
News for WITI Members

---
Are Your Customers Satisfied?
By Diane Krakora, President & CEO of Amazon Consulting, LLC.
At the core of every repeat sale or product upgrade is a satisfied customer, the ultimate driver of most successful business ventures. Satisfied customers turn into loyal customers who buy more software and services and recommend and promote your offerings to other prospects. Conversely, businesses whose software products and post-sales service continually fall short of meeting customer needs - and repeatedly register low customer satisfaction - will eventually go out of business. In addition to providing a high quality product or service, one of the most strategic ways to increase end-customer satisfaction is to develop and leverage effective channel and alliance partnerships to deliver high quality service both during and after the initial sale.
Diane, as a WITI Member, submitted this article to WITI for publication. Do you have expertise to share? WITI gladly accepts submissions for publication! For more information or to make a submission, please visit the Members' Area.
---
Women on the Move
Denise Houseberg named a finalist in Make Mine A $Million Contest
Denise Houseberg, president of MarketExpo.com, is one of three Dallas finalists in the Make Mine A $Million contest. The contest is funded and sponsored by American Express OPEN, Count-Me-In.org and The Women's Leadership Exchange. For the next year, Denise will receive funding, mentoring and coaching to ensure that MarketExpo.com gets to a million dollars in sales.
Launched in 1999, MarketExpo.com provides a gateway between the manufacturer and the consumer online. Most manufacturers offer a much larger line of products than represented at retail. Limited shelf space in the traditional retail store prohibits any one store from carrying all lines. To resolve the age-old dilemma of satisfying consumer demand, Denise came up with MarketExpo.com as a way to give consumers access to manufacturers' entire line of products without jeopardizing their relationship with brick-and-mortar retailers. Now representing 22 manufacturers and 11,000 products, Marketexpo.com sells a variety of home and garden products.
Do you have an announcement or promotion you'd like to share? Use the form in the Member's Area to send us your news to appear in the Strategist and also on our website. If you prefer, you can also email the editor.
---
WITI Marketplace
What an immediate impact we could make if each of us decided to spend our business and consumer dollars on women-owned businesses - to find a coach, consultant, software vendor, dentist, conference-call vendor, phone service, computer and so on from a woman! This is what the WITI Marketplace is all about. There are over 100 businesses in the Marketplace so you don't have to search far to find the products and services you need! Search the Marketplace today!
Featured Business: Jeanne Bynum Hipes, Esq.
Jeanne Bynum Hipes, Esq., former Assistant General Counsel to one of the world's largest technology corporations, and now Of Counsel to Irvin, Stanford & Kessler, LLP in Atlanta, Georgia, is dedicated to providing excellent legal services to technology companies. Call her on 404-364-4541. A seasoned trial lawyer, Jeanne practiced complex, commercial litigation in the Atlanta area for many years before joining Lockheed Martin Corporation in Owego, New York in 2001 to serve as the company's Assistant General Counsel. At Lockheed Martin, Jeanne gained valuable national and international business and negotiating experience handling legal issues connected with the development, production and sale of cutting edge technology, while concurrently overseeing and directing some of the nation's top outside counsel in employment-related and business litigation.
As an attorney with Irvin, Stanford and Kessler, Jeanne uses her courtroom experience to resolve disputes as quickly and advantageously as possible, using aggressive litigation strategies, negotiation, mediation, arbitration, and jury resolution. Jeanne's unique blend of experience in both the world of litigation and in the national and international business world enables her to understand the business perspective of commercial clients, while fighting aggressively for their concerns in the litigation arena. This experience also enables her to structure contracts for her clients that avoid litigation.
Jeanne handles matters involving trade secrets, employment agreements, noncompete/nondisclosure/nonsolicitation agreements, business and technology contracts, business torts, employer duty, securities issues, RICO, products liability law, insurance, UCC, and other business issues. Jeanne has conducted arbitrations before the NASD and AAA, and has litigated in numerous judicial forums throughout the United States, as well as in foreign jurisdictions.
Is your business in the WITI Marketplace? Do you have a special offer for WITI members or would you like to be a featured business in a future issue of the Strategist? We'd love to hear from you!
---
Partner Events & Announcements
Internet with Integrity Power Summit
In the next 5 years, the Internet will no longer be the easy, low cost alternative. It's going mainstream. So you have a choice; listen to wannabe Internet guru's selling you water by the river, or take the steps to insure your success.
Join Declan Dunn and Jody Colvard in New York on June 24-26th, and learn a simple, effective marketing system code-named the "Internet with Integrity". This system grew from 10 years experience, starting with employees earning $7 an hour and launching them into generating millions a year. They're even willing to invest $1,000 to prove it to you. Sound interesting? More details at http://www.rightnowseminar.com/witi/
---
WITI Works
WITI4HIRE
Accelerate Your Career! - Companies that get it are searching the resume database at WITI4Hire every day. Don't be overlooked! So, whether you are actively seeking a job or just open to great possibilities, add your resume today (FREE for members AND non-members, and confidential too!) to be noticed by companies like New York Times Digital, Best Buy, Altiris, Southern California Edison and GOJO Industries, Inc. Don't want to wait? Visit WITI4Hire and search for your next job!
Employers Click Here
WITI HALL OF FAME

The WITI Hall of Fame was established in 1996 by WITI to recognize, honor, and promote the outstanding contribution women make to the scientific and technological communities that improve and evolve our society. Mark your calender to join us in Silicon Valley in December for the Tenth Anniversary Celebrations.
---
Company Spotlight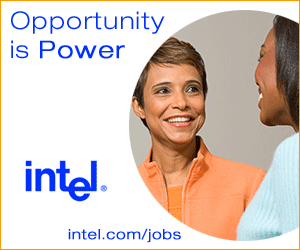 Intel would like to offer you an inside look at our company as a great place to work. As part of our dedication to diversity, we are proud to introduce Intel's Success Through Diversity Jobs at Intel Newsletter. The goal of this new monthly newsletter is to provide you with the information you need to better understand Intel's career opportunities, company culture, and employees'so you can find the job at Intel that's right for you.
In addition to regular feature articles, employee profiles, job search tools, reminders and resources for finding a job at Intel each newsletter also has three different Success Through Diversity feature articles. You can sign up for one, two, or all three. Our feature articles focus on different community groups at Intel such as: African Americans at Intel, Latinos at Intel and Women in Technology at Intel.
Click here to sign up and receive Intel's Success Through Diversity Newsletter today.
Search for Intel jobs on WITI4Hire.
Job Spotlight
Field Application Specialist -- Nordson Corporation
This position has responsibility for primary contact between Nordson and assigned customers, will provide installation supervision/technical support for the designated PPA Focus Market systems, and develop new technologies for applications as required based upon field application, customer and field engineering needs.
Not Yet a WITI Member?

Upcoming Network Events:
June 9 - San Diego
"Strategically Managing Your Career"
June 28 - Orange County
"The Feminine Principle of Leadership"
July 6 - Houston
Nanotechnology and Women's Health Studies By Rebekah Drezek
July 13 - San Diego
MidSummer's Eve Networking Social
August 12 - Los Angeles
Summer Networking Social-Los Angeles
August 17 - San Diego
"The Art of Angel Investing": A Joint Presentation of WITI San Diego and San Diego Tech Coast Angels
August 19 - Orange County
Summer Networking Social-Orange County
September 13 - South Florida
The Naked Truth: Women and the Modern Business World - An Evening with Margaret Heffernan and Friends
September 14 - Atlanta
The Naked Truth: Women and the Modern Business World - An Evening with Margaret Heffernan and Friends
September 15 - Houston
The Naked Truth: Women and the Modern Business World - An Evening with Margaret Heffernan and Friends
October 4 - San Diego
Speaker Series Workshop: "Creative Strategic Planning: Planning Instead of Reacting"
October 22 - San Diego
Halloween Masquerade Ball

More information about network events in your area is available on our website.
WITI @ ...Keeping you up-to-date on where you'll find WITI!
WITI@ keeps you up to date on where you will find WITI partners, WITI discounts, WITI women attending industry events. Visit the Members area of the WITI website for priority discount codes for these events. If you want a discount to an event you will be attending and/or want to meet other WITI women at that event, just let us know so we can get it for you!
Virtual Workplace: Challenges and Possibilities
Jun 8 2005
Chicago, Illinois
Employee ROI: NYC Leadership Breakfast
Jun 22 2005
New York, New York
The Internet with Integrity Summit
Jun 24 2005-Jun 26 2005
New York, New York
C3 Expo (Corporate & Channel Computing Expo)
Jun 28 2005-Jun 30 2005
New York, New York
Gartner IT Security Summit
Sep 14 2005-Sep 15 2005
London, Outside US/Canada
Digital Life
Oct 14 2005-Oct 16 2005
New York, New York

For more information and discounts