Member Login | Membership Sign Up

Fired Up
by Margaret Heffernan
You may think "You're fired!" makes a great TV tagline -- but you'll feel very differently when you're on the receiving end of it.
The only time I've ever been fired, I felt my whole world had come crashing down around me. I was in a job that I adored. I was passionate about it, believed in it, and had no concept of ever doing anything else. Sleepless for days and torn between rage and grief, I made my indignation felt far and wide. If my company was going to fire me, I thought, it should suffer. So I tried to humiliate it and its leaders in every way I could find.
Continued ... Discuss this article!
---
Join WITI today
and receive your choice
of a FREE inspirational book!
---
Dangerous Attachments
By Jane Herman
We all get attached to things and people. We feel close to them, connected by ties of affection and attraction. These attachments can make us feel warm, secure, and safe. But attachments can also keep us stuck, unable to take action or move forward, blind to the opportunities around us, and incapable of letting go when in our heart we really know it is time to move on. Here are six dangerous attachments to be on the lookout for: Continued ... Discuss this article!
---
News for WITI Members

---
Offshoring: Is it Appropriate?
By Vanina Mangano
Not too long ago, I sat at a networking event that featured three prominent executive speakers, all of whom were admirable and highly successful women. At the end of the evening, the audience was allowed a brief "question & answer" period, where they could branch out on topics other than what was discussed during the seminar. A brave attendee raised her hand and, having been an untouched subject thus far, asked how the speakers felt about sending work overseas. Before one of the speakers could offer an opinion, another attendee a few chairs back quietly mumbled that offshoring is never appropriate, and a few hushed agreements followed. I was a bit disheartened, feeling as though we had reverted back to first base in the span of a single moment.
Continued ... Discuss this article!
Vanina, as a WITI Member, submitted this article to WITI for publication. Do you have expertise to share? WITI gladly accepts submissions for publication! For more information or to make a submission, please visit the Members' Area.
---
Women on the Move
India Gary-Jenkins accepts promotion to COO role at Deutsche Bank
India Gary-Jenkins has recently been named the Global COO for the Operations, Business Area Controlling and Infrastructure IT group for Deutsche Bank based in London. Prior to this assignment, she spent two years in Tokyo as the Asia Pacific Head of Equity Securities Processing Technology also for Deutsche Bank. India's career in the Investment Banking IT arena spans more than 15 years with Morgan Stanley, Credit Suisse First Boston and finally Deutsche Bank, where she has spent the last 7 years. A graduate of Spelman College in the US, she also attended the University of Strasbourg in France, and recently completed a 3-year Leadership Development program at the London Business School. India is a published writer who regularly contributes to women's magazines in the UK. In addition to English, she speaks French and Japanese and is also a member of the European Women's Professional Network.
---
Do you have an announcement or promotion you'd like to share? Use the form in the Member's Area to send us your news to appear in the Strategist and also on our website. If you prefer, you can also email the editor.
---
HOW TO REINVENT YOUR LIFE AND/OR CAREER... Come learn from others and share what you know.
In May of this year I hosted a panel at the WITI National Convention called "Women Who Have Reinvented Themselves." The room was filled with nearly 200 amazing women, all of whom had either already reinvented their lives/careers, were actively involved in redesigning their lives/careers, or were seriously considering embarking on the adventure of redesigning their lives/careers. They came to hear the four of us on the panel describe our own personal stories of reinvention: how we did it, the joys of the journey and the successes, the traps along the way, what worked and what didn't work. I walked away from that meeting convinced that women who want to reinvent themselves can learn from, and be inspired by, the stories of those who have traveled the path. I realized how sharing the wisdom gained though the reinvention process can be a great tool for empowering other women and helping them discover and achieve their own personal definition of success.
To make this happen I am setting aside a special section on my www.PersonalAndBusinessSuccess.com website where I am going to post the reinvention stories of women who are willing to share them. If you are willing to share your story, please send an email to [email protected] with "My Story" in the header. Keeping with the themes that focused the stories presented during the conference, please try to include the following: who you were before, who you are now, that turning point or special moment that made you decide to change your life or career, and what was your greatest pleasure/challenge/surprise in making this change. Even if you are still in the process of reinventing your life, feel free to share where you were, where you are now, where you are headed, and what you are learning along the way. As my way of saying "Thank You" to those of you who share your stories, I will send you a free copy of my book entitled "Take Control Of Your Life" in PDF format.
---
WITI Marketplace
What an immediate impact we could make if each of us decided to spend our business and consumer dollars on women-owned businesses - to find a coach, consultant, software vendor, dentist, conference-call vendor, phone service, computer and so on from a woman! This is what the WITI Marketplace is all about. There are over 100 businesses in the Marketplace so you don't have to search far to find the products and services you need! Search the Marketplace today!
Featured Business: Tapestry Communications
Tapestry Communications helps you weave clarity and creativity into your organization by offering a suite of connected services. Specifically, we can help you develop better communication, processes, documents, training, strategic planning, and human interface designs.
A thread that links all of our services is helping your organization identify key tasks and then facilitating the pruning of that does not service those tasks.
Is your business in the WITI Marketplace? Do you have a special offer for WITI members or would you like to be a featured business in a future issue of the Strategist? We'd love to hear from you!
---
WITI Works
Special Summer Pricing!! Hurry! Offer Ends Aug. 5th! Click Here for more details.
WITI4HIRE
Accelerate Your Career! - Companies that get it are searching the resume database at WITI4Hire every day. Don't be overlooked! So, whether you are actively seeking a job or just open to great possibilities, add your resume today (FREE for members AND non-members, and confidential too!) to be noticed by companies like New York Times Digital, Best Buy, Altiris, Southern California Edison and GOJO Industries, Inc. Don't want to wait? Visit WITI4Hire and search for your next job!
WITI HALL OF FAME

The WITI Hall of Fame was established in 1996 by WITI to recognize, honor, and promote the outstanding contribution women make to the scientific and technological communities that improve and evolve our society. Mark your calender to join us in Silicon Valley in December for the Tenth Anniversary Celebrations.
If you would like to make a nomination for the 2006 WITI Hall of Fame, please download the 2006 nomination form. The nomination deadline is February 1, 2006.
---
Company Spotlight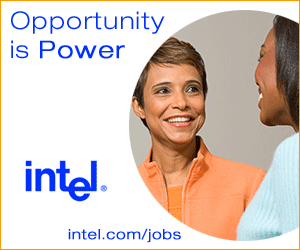 At Intel, we not only believe that people are the greatest investment in a company - we live it. Intelligence. Innovation. Creativity. Culture. These are principles that drive us. We're using these principles each day to create an inspiring workplace where inspiring ideas are rewarded. Discover why the Intel workplace is such a great place to work.
Search for Intel jobs on WITI4Hire.
Job Spotlight
Business Systems Analyst
A great reputation is a result of great products. Great products are a result of innovative thinking. Our leading-edge Products team is a big reason why Blackbaud is the world-leading provider of software solutions to nonprofit organizations. If you have an enthusiastic team-oriented attitude and the right skill set, we've got a Business Systems Analyst position with your name on it.
Not Yet a WITI Member?

Upcoming Network Events:
August 12 - Los Angeles
Summer Networking Social - Sponsored by Google
August 17 - San Diego
"The Art of Angel Investing": A Joint Presentation of WITI San Diego and San Diego Tech Coast Angels
August 18 - Orange County
Summer Networking Social-Orange County
September 7 - Houston
Creating a Passionate Work Environment by Maria Fee
September 13 - South Florida
The Naked Truth: Women and the Modern Business World - An Evening with Margaret Heffernan and Friends
September 14 - Atlanta
The Naked Truth: Women and the Modern Business World - An Evening with Margaret Heffernan and Friends
September 19 - Boston
Women: What They Love and Hate About Tech Tools
October 4 - San Diego
Speaker Series Workshop: "Creative Strategic Planning: Planning Instead of Reacting"
October 18 - Boston
Leading in Male-dominated Environments
October 22 - San Diego
Halloween Masquerade Ball
November 2 - Houston
Executive Panel: Women Changing the Game Board
November 14 - Boston
BioTech-BioScience: What's the Future for Women
November 16 - Boston
The Power of Differences: A New Gender & Diversity Communications Workshop for Women and Men
January 9 - Boston
Women Leaders in Venture Capital
March 8 - Boston
Women Innovators & Entrepreneurs

More information about network events in your area is available on our website.
WITI @ ...Keeping you up-to-date on where you'll find WITI!
[email protected] keeps you up to date on where you will find WITI partners, WITI discounts, WITI women attending industry events. Visit the Members area of the WITI website for priority discount codes for these events. If you want a discount to an event you will be attending and/or want to meet other WITI women at that event, just let us know so we can get it for you!
The Mercury News Career Fair
Aug 3 2005
Santa Clara, California
SVASE and PWC present the SVASE Main Event for Q3, 2005 - Money Tree™: Venture Capital Trends: The Second Definitive Mid Year Update
Sep 8 2005
Santa Clara, California
Gartner IT Security Summit
Sep 14 2005-Sep 15 2005
London, Outside US/Canada
Oracle Open World
Sep 17 2005-Sep 22 2005
San Francisco, California
IDC-Kahn Compliance in Information Management Forum East
Sep 19 2005-Sep 20 2005
New York, New York
IDC Security Forum East
Sep 19 2005
New York, New York
IDC Mobile Enterprise Forum
Sep 21 2005
New York, New York
IDC Finance Performance Management Forum
Sep 22 2005
New York, New York
TechLearn: Driving Business Execution Through Learning
Sep 25 2005-Sep 28 2005
Las Vegas, Nevada
ICCM
Sep 25 2005-Sep 28 2005
Las Vegas, Nevada
Frontline Expo: Transforming IDentification into Business Benefit
Sep 27 2005-Sep 29 2005
Chicago, Illinois
WIPP Leadership and Legacy Summit
Sep 28 2005-Sep 30 2005
Washington, District of Columbia
Digital Life
Oct 14 2005-Oct 16 2005
New York, New York

For more information and discounts